Raise different
Let anyone who supports your product & mission invest at any single time.
Retain full ownership to keep pushing towards your long-term vision.
Stay focused on your business: Pitch customers, not investors.
Get financing at public market valuation.
Launch your CSO.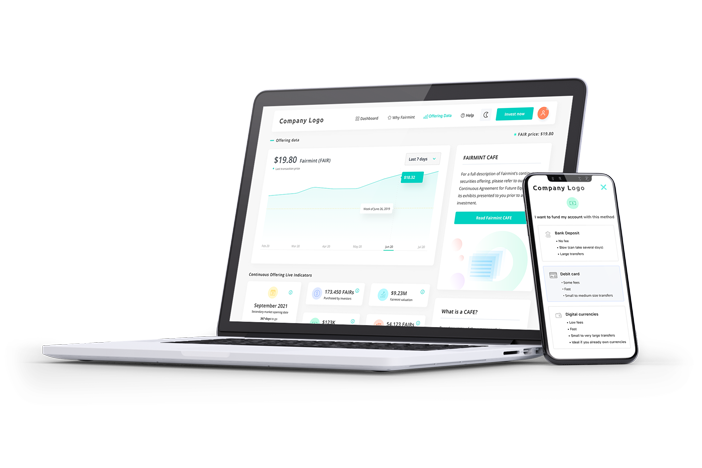 The Future of Financing is Continuous
Fairmint enables promising companies to receive financing globally, continuously and compliantly with a simple "Invest now" button directly from their app or website. See it for yourself by investing in Fairmint's own CSO (Continuous Securities Offering).
Investment process
Turn your customers into your investors
- 01
Raise interest
Be they professional investors looking for an investment opportunity or loving users wanting to support your company, they're just a click away from investing and aligning their financial interest with yours.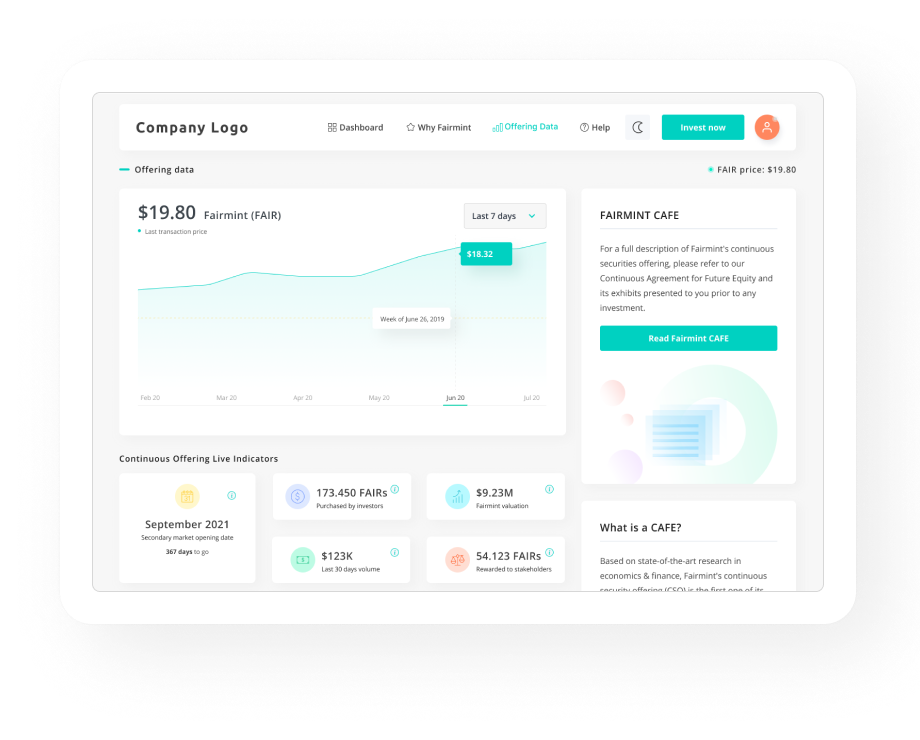 When we finally start focusing on stakeholder value as well as shareholder value, our companies will be more successful, our communities will be more equal, our societies will be more just and our planet will be healthier.
CEO @ Salesforce
Key Benefits
Run your own CSO and:
Receive financing
Investors finance your business while you stay focused on developing it. Growth financing? Solved!
Keep control of your business
The securities you issue provide no voting rights to investors, you retain full control of your company.
Grow with your community
Give your key stakeholders the opportunity to build wealth with your company by investing in it. A powerful virtuous cycle.
Become a 21st century company
From a shareholder-centric model to a model focused on all stakeholders, Fairmint empowers you to share your financial success with your customers, employees, contractors, partners, communities, fans, etc... an opportunity that has traditionally been reserved to insiders.
Read more
* These diagrams are for illustrative purpose only. They are not based on real data.
Towards a new capitalism
Our generation aspires to a more sustainable capitalism. Let's deliver an exceptional user experience to your stakeholders rather than only delivering more value and dividends to shareholders.
Read more about our vision
Our partners
An ecosystem built for you